Curso Creative, Serious and Playful Science of Android Apps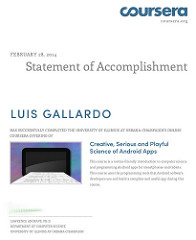 Hace poco me llegaron los reconocimientos del curso de Android Creative, Serious and Playful Science of Android Apps dictado por Lawrence Angrave de la Universidad de Illinois en Urbana-Champaign. El curso está diseñado para aprender a desarrollar aplicaciones Android desde cero, por lo que si deseas aprender a desarrollar para esta plataforma este es un buen punto de partida. Los videos son en inglés, pero existen subtítulos en español e inglés, por lo que el idioma no es una barrera.
Los reconocimientos
Los reconocimientos que me otorgaron fueron:
Statement of Accomplishment: Esto es como un certificado de cumplimiento del curso con 70% o más. Yo obtuve 94.6%
Computer Science and Programming Badge: Esta es una especie de insignia que dan también por haber aprobado con más de 70%.
Estos reconocimientos no son los que dan con el Signature Track, el cual  permite compartir esta calificación con un sistema de validación comprobable, a cambio de $49 que se debe pagar para este beneficio.