Programming Mobile Applications for Android Handheld Systems course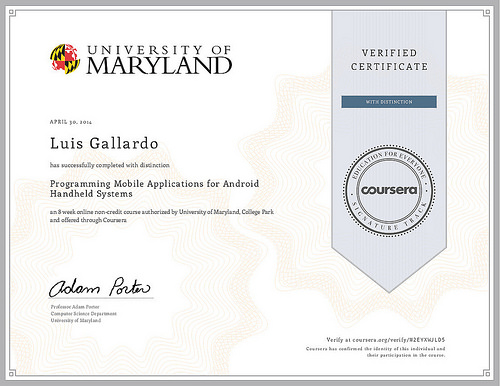 Coursera just sent me the certificate for completing with distinction the course Programming Mobile Applications for Android Handheld Systems. This course is endorsed by the university of Maryland and lectured by Dr. Adan Porter.
Something worthy to mention about this Android course is that it's really well structured, and the good quality of the videos and assignments. It makes me recall my time at college because the projects are very organized with clear objectives. In fact project's evaluations are done automatically with JUnits. But the final project is evaluated by other peers (4 in total).
For this course I took the Signature Track, which is the paid option where the identity is checked by a keyboard pattern recognition software and verified by checking  the student's photo (at the end of the course some assistants check those pics). With these validations they grant a certificate that can be verified using the following links:
If you are interested in this course, you can see the course's content follow the above link.